#NewsStory TDS is Helping the Industry to Build Tenancy Deposit Knowledge Online
How Much Do You Know About Tenancy Deposits?
A recent Tenancy Deposit Scheme (TDS) poll amongst letting agents has revealed that many would benefit from knowing more about deposit protection. Whilst knowledge is generally good regarding the tenancy deposit protection (TDP) process, 57% of agents said a short course or workshop on tenancy deposits or resolution would help them build further knowledge. A further 24% said they would be potentially interested in learning more.
The agents who responded were most concerned that a lack of accurate and up-to-date knowledge could result in receiving a penalty for non-compliance (27%), not having the evidence needed to support a dispute case (25%), or receiving complaints/bad reviews (24%).
"With so much changing legislation over the past couple of years, we wanted to ask landlords and agents if they were confident about tenancy deposit protection, as the ramifications for errors can be costly," said Debbie Davies, Head of Sales and Marketing at TDS.
Over the past six years, TDS has been providing property professionals with invaluable training in TDP and tenancy deposit disputes through its popular TDS Academy. Due to lockdown, the TDS Academy took its courses online and the feedback from hundreds of attendees over the past six months has excellent.
"I always find the TDS online sessions interesting and informative. The presenters understand the issues that arise when handling deposits and communicate the information in a professional and knowledgeable manner, always time well spent," said one delegate.
The TDS Academy courses give all attendees the ideal platform to broaden their knowledge on deposits and disputes in the virtual environment whilst also gaining valuable Continued Professional Development (CPD) points.
There are two courses currently available from TDS Academy: The TDS Foundation Course and the Adjudication Workshop.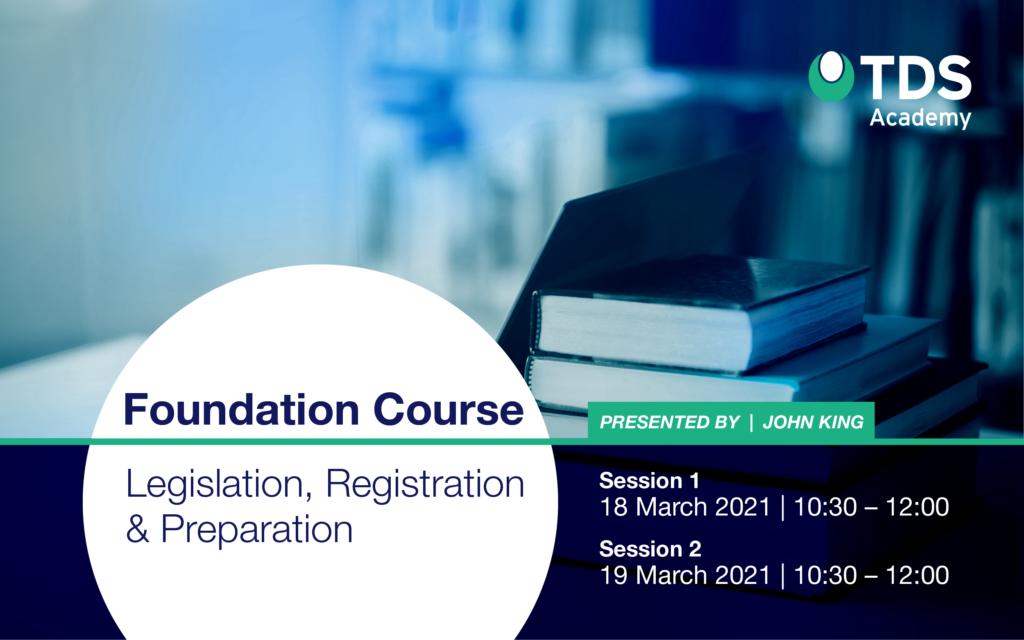 The TDS Foundation Course, takes landlords and agents through the timelines and requirements of TDP, helping delegates avoid costly errors when registering a deposit. It also provides expert guidance on the lifecycle of a deposit, from registration and repayment to the alternative dispute registration process. Attendees will learn about common deposit issues, the evidence required, and how to prepare a deduction claim.
The Adjudication workshop is ideal for property managers, administrators, inventory suppliers, and landlords. TDS adjudicators teach delegates how to think like an adjudicator and take them through the Alternative Dispute Resolution service (ADR), looking at the kind of evidence an adjudicator looks for in a tenancy deposit dispute.
Despite being online, the courses are live and interactive and offer all attendees the opportunity to ask questions and share their experiences during the sessions. Each workshop is run by an expert from TDS who brings their experience and presents practical knowledge in an informative and engaging way.
There are a few spaces left for March 2021 workshops. To avoid missing out, book online today at TDS Academy Online.
---
About Tenancy Deposit Scheme (TDS)
Tenancy Deposit Scheme (TDS) is a Government-approved scheme for the protection of tenancy deposits; TDS offers both Insured and Custodial protection and provides fair adjudication for disputes that arise over the tenancy deposits that we protect.
We provide invaluable training in tenancy deposit protection and disputes for agents and landlords through the TDS Academy as well as joining with MOL to provide the Technical Award in Residential Tenancy Deposits.
Join TDS Custodial for FREE today
TDS can only comment on the process for our scheme, other deposit protection schemes may have a different process/require different steps. Content is correct at the time of writing.
These views are those of the author alone and do not necessarily reflect the view of TDS, its officers and employees.