#ExpertView: Where to Find Trusted Advice on Tenancy Deposit Protection
As the longest established, Government-approved tenancy deposit protection provider, Tenancy Deposit Scheme (TDS) have been providing independent, unbiased guidance to landlords, letting agents and tenants for many years.
Whether it's guidance on the latest legislation like the deposit cap, or advice on how to avoid deposit disputes, TDS continuously supports the PRS with free guides, blogs, case studies, reports, templates and most recently, webinars and seminars.
What you may not know is that TDS work closely with a huge range of reputed organisations across the industry. Partnering with the NRLA, RICS and ARLA /NAEA Propertymark, TDS provide a trusted voice on the ever-changing rules and regulations surrounding tenancy deposits.
TDS has a clear aim: to make tenancy deposit protection easier. It's this ethos that sits behind all of their educational content and industry-leading tech solutions (like the instant online deposit cap calculator).
It comes down to helping landlords save time, hassle and money by streamlining what should be a straightforward process in tenancy management – whilst helping tenants to understand their responsibilities to ensure they get their deposit back at end of tenancy.
There are two useful tenancy deposit checklists on this website from TDS, that have been designed to achieve both those goals:
The tenant's tenancy deposit checklist enables tenants to create a 'To Do' list at each stage of tenancy designed to help them check important details with their landlord and ensure they are doing their part at check-ins and check-outs.
The landlord's tenancy deposit checklist aids landlords in a similar format, helping them tick off every box in the tenancy process, ensuring they remain compliant and protected throughout. Based on best practice in tenancy deposit protection, whilst it may seem like a lengthy process, this has been developed to ensure landlords have all the paperwork and evidence in place should they need to deduct from a deposit at the end of tenancy.
You can find more in the Information Lounge on the TDS website.
Not a member of TDS yet? Don't worry. It only takes a few minutes to join. Find out why now is the right time to switch tenancy deposit schemes: Why Switch?
Propertychecklist landlords can get £1.50 off Insured deposit protection with TDS until 1st of October using the code PC09.
---
About the Author
Kate Faulkner
Managing Director at Propertychecklists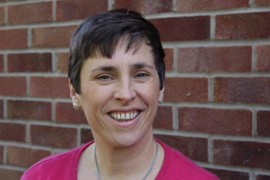 Kate Faulkner is one of the UK's leading property experts. She is passionate that most of the problems in the residential property market can be solved if the media, industry and government worked together to educate consumers on how to carry out property projects. To aid this, Kate has set up a free consumer education site Propertychecklists and working groups for Home Buying and Selling and The Lettings Industry Council which are attended by MHCLG.
---
About TDS
TDS Custodial: where TDS hold the deposit for the duration of the tenancy. Landlords, you can protect your deposits for FREE today.
Tenancy Deposit Scheme (TDS) is a Government-approved scheme for the protection of tenancy deposits; TDS offers both Insured and Custodial protection and provides fair adjudication for disputes that arise over the tenancy deposits that we protect.
TDS can only comment on the process for our scheme, other deposit protection schemes may have a different process/require different steps. Content is correct at the time of writing.
These views are those of the author alone and do not necessarily reflect the view of TDS, its officers and employees.
---